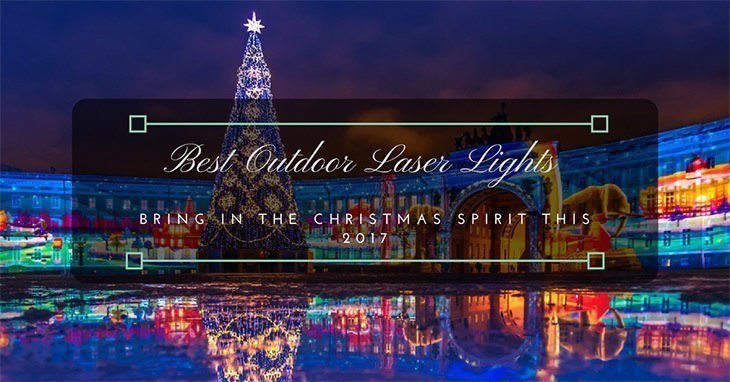 Wow! 5 Best Outdoor Laser Lights to Bring in the Christmas Spirit this 2017
With Christmas time around the corner, you might be wondering what you should set up outside your house to make it look more like Christmas. Have you thought about lighting up your garden with outdoor laser lights?

Outdoor lights make decorating easy, you can just have lights alone and no other decoration, but your outdoors would still look extravagant and fantastic. Lights just tend up to brighten a place easily, even when it comes to interior designing, lights play an important part.

Now in this article, I'll be giving you all of the best outdoor laser lights(but we'll pick the best Christmas laser lights) for Christmas and tell you why they are part of our best list, this way, we'd be helping you know which outdoor laser light would be the best fit for you.
Product Comparison Table
Outdoor Laser Lights Overview
Laser lights are really beautiful; you can't argue with that but using that should be with caution. Yes, they could be very hazardous especially when placed outdoors. And since I'll be telling you more about outdoor laser lights then I should also give you a strict warning about this.

When you use outdoor laser lights, make sure that they are only shining your house and garden, allowing your light to shine the sky is very, very wrong. Outdoor laser lights could possibly distract pilots and worse, even temporarily blind them. It might seem nothing to you from the ground but it's different up there, the small light could end up being a windshield-filling blob of brightness up there.

So before setting up your outdoor laser lights, make sure that it will not hit the sky or reflect towards the sky.
Questions to Ask When Choosing Your Laser Lights
Here are some factors you can consider when choosing your outdoor laser lights:
How usable is it? Will you be able to use it all year round?
Are customers who have tried it saying good things about it? What are their reviews?
How sturdy is the product? Is it made of quality materials? Will it be able to be used under different weathers?I
s it right for the price? How much is it? Will you be paying for what you'll be getting?
What to Consider When Buying Laser Lights?
When you buy outdoor laser lights there's not much to consider but personal preferences. Why? Because they're mostly plug and play and attachable on walls, ceilings and floors. When you choose your outdoor laser lights, you must know what you need and expect from it to be able to be contented once it arrives.

So when you buy it online, make sure to read as much reviews about it as you can. Why? Because outdoor laser lights come in many different varieties, you would want to make sure that it would suit your preference.
Our Top 5 Best Outdoor Laser Lights Choices 2017
#1. Outdoor Projector Lights
It's safe for all weathers, you can use it whether it's snowing or even when the sun is high and hot, you can also use it when it's raining. For this outdoor laser light, there's no stopping you from using it. Its materials are very high quality and strong.

You can choose from different modes such as Christmas tree, Bells and sky stars, Santa Claus, Christmas socks, and it creates different patterns to give you an unforgettable season.
#2. LESHP Outdoor Laser Lights for Christmas
This product has many different patterns that could be used in different occasions, not just Christmas. It has a very wide coverage up to 3,000 Square feet. It has a built in 6-hour on time and 18 hour off. It can be used in any weather type because it was built from quality materials.
#3. IP65 Outdoor Laser Lights
This is made from high quality materials and is water resistant. It uses holographic technology to achieve high quality images. It projects combinations of red, blue and green.
It can also be used in different occasions like Valentine's, weddings, other occasions and Christmas. It's easy to use, and it comes with a stake.
#4. Outdoor Laser Light by Fiery Youth
It has beautiful illuminations from Red, Green to 8 eye-catching patterns together with a blue background. Its coverage is very wide and you can control it through a remote control.
This outdoor laser lights can be used during any type of weather, and you can set it up easily.
#5. Outdoor Led Light with 8 Patterns
It has 8 moving patterns with RGB, It could be used for different occasions because of its beautiful patterns, and it also has a firefly. It has a security kit so people can't steal it easily.
Different Ways to Use Outdoor Laser Lights
Christmas Tree
You can use your outdoor Laser Lights as the decoration of your outdoor Christmas tree. Instead of spending time decorating it, and having to panic when it rains hard, use an outdoor laser light to decorate it, it saves you time, effort, money and worries.
Outdoor Landscaping
To put more emphasis on your garden, a tree, your orchids, or a fountain, well to put emphasis on water you want you can use laser lights. If you want to put in more effects, just use your laser light to do the job. That way you don't have to worry about it no matter what the weather is.
There are a lot of other different creative ways to use outdoor laser lights, that's why when it comes to buying them, as long as it's durable and made from high quality equipment, it won't be a waste of money.
How do Outdoor Laser Lights Graphics Work?
It's usually controlled from within the box, and what happens in there is the mirrors inside aim the beam at a surface. The beam first bounces one mirror as it moves horizontally and then the other one on right angles as it moves vertically to connect the dots.
It moves quickly from the inside so that the viewers see one whole image. And that shows the pictures of Christmas trees, Christmas socks and others more.
Security Methods
Well, once those pesky little thieves see your amazing Outdoor Laser lights they'll definitely try to get their hands on it, so what can you do to keep them safe?

You can try to add a cable to a stake that you'll bury on the ground. If you know that they'll be aggressive then go as far as using a pothole digger and drill a hole through your laser light and burying a rebar that's wired and connected to your projectors hole. For added security don't just add rocks or soil to the hole, add cement to it.

If you'll be attaching it to a wall, use a strong wall flange and attach it where people can't access it easily.

It's disappointing how people would ruin the Christmas spirit by stealing but that's just how the world is now. It's better to keep your things safe as early as the first time you install it than worrying every time someone passes by.

So instead of worrying or taking the chance, keep them safe from thieves. That way, even if you install it early you and your family would enjoy it longer and feel the Christmas spirit earlier.
Conclusion
Since this article was geared to help you choose the best one out there, we will also tell you what we thinks is best and why we think it's the best. So out of 5 products that are total bestsellers and have been starred 4.5-5 with very good reviews, we have finally picked the best. The best would be number 2, LESHP Outdoor Laser Lights for Christmas.

Now, I know you probably think it's another one but then again we all have different uses for it, right? The best would really matter on how we're going to use it but for us it is number 2.
So you might be wondering why? Well it's because the LESPH Outdoor laser Lights for Christmas can cover up to 3000 Square feet, that's the widest from them all. But that's not just it, has a long power cord suitable for outdoors, it's made sturdier than all the others.

It also has different patterns available so you can use it for different occasions. You can light up your whole garden bed with just this one which is very efficient for those who want to be able to use it even if it isn't Christmas.

So there goes our list of 5 amazing Outdoor Laser lights that could be used for Christmas and other occasions too. If you read all the way up to here, then you already know the different things you have to know about owning laser lights and how to use them when the holiday season has ended.

Keeping everything secure is a must already so I added some ways you can do to keep them secures, last year there were multiple cases where thieves stole their laser lights, we don't want that to happen this year so let's try to keep everything well secured.

Now that we're on the end of this article, I hoped we've helped you choose which outdoor laser light would be useful for you on Christmas and other occasions after that.