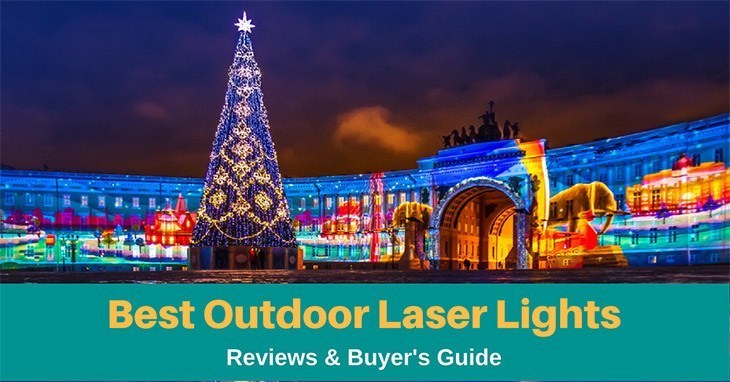 5 Best Outdoor Laser Lights Reviews 2021 (Buyer's Guide)
With Christmas time around the corner, you might be wondering what you should set up outside your house to make it look more like Christmas. Have you thought about lighting up your garden with outdoor laser lights?
Outdoor lights make decorating easy, you can simply have lights alone and no other decoration, but your outdoors would still look extravagant and fantastic. Lights just tend up to brighten a place easily, even when it comes to interior designing, lights play an important part.
Now in this article, I'll be giving you all of the best outdoor laser lights for Christmas and tell you why they are part of our best list, this way, we'd be helping you know which outdoor laser light would be the best fit for you.
More...
Best Outdoor Laser Lights [Menu]
05 Best Outdoor Laser Lights Price List
We've come up with our 5 favorite outdoor laser lights so far, that you, too, could buy.
Our Top 5 Best Outdoor Laser Lights Choices 2019
1. 1byone Laser Light (outside Christmas Projector)
Dimensions: 11 x 5.5 x 4.5 inches
Power Source: Corded-electric
Included Components: RF Remote Controller
It provides outstanding illuminations. It comes in a compact casing and is easy to set up. This laser light projector is made to face all types of weather conditions. It is made of aluminum alloy. With its built-in timer, it will automatically turn on and off on set time.
It covers up to 2100 feet so you can cover your whole house with red and green stars to get those Christmas vibes.
Projects green and red lights or a combination of both.
This outside Christmas projector illuminates up to 2100 square feet.
Motion, flashing, or simply stationary modes available
Built-in timer to turn on or off.
IP65 protection for the light casing.
IP44 protection for the power adapter.
If you are looking for simple outside laser lights and not over the top patterns and effects, the 1 Byone Christmas laser light is an elegant and reasonable choice for you. It is inexpensive as compare to other lights yet provides you good quality while cutting on some features.

It is still very durable with aluminum built and will have a long life. If you think this is all you need, then you should definitely go for this one.
2. Star Shower Laser Light Projector (as seen on tv)
Dimensions: 5.9 x 7.6 x 10.5 inches
Now you can make your house the talk of the town, and you don't even have to spend a lot. The Star Shower Xmas Laser Light is a budget item. These Christmas projectors are easy to install with a generic two light choice between red and green.
It has a good housekeeping stamp, and the brand itself is quite known for quality, so it's surely an option to consider.
One-click switch between motion and static mode.
Incorporates a green light show or sparkling combination of red and green colors.
Year-round use with a weatherproof and waterproof design.
Extra-long stake for outdoor installation.
Uses less than 5mW
Round Indoor Base for proper indoor setup.
Ambient light sensor.
The As Seen on TV Star Shower laser light is a bit more expensive version of the "static" version from this brand, mentioned previously in our review. So for a bit more money, you get a motion feature to enhance the magic.
It still doesn't have certain premium features, however for basic overall functionality, it hits the nail, and at such a price point, it's something to consider.
3. Remote Controllable RGB Laser Outdoor Garden Landscape Light
Dimensions: 7.3 x 6.7 x 5.9 inches
Power Source: Corded-Electric, RGB laser light
Included Components: RF Remote Controller
LEDMall a leading brand in Laser Lighting applications. With the year-round magic of weather durability and energy saving, the LedMAll® Remote Controllable RGB Laser Outdoor lights are suitable for party decorations. It has a full RGB color combination available that is sure to make your guests astonished by its amazing lightning show.
It has led innovative technologies related to laser and holographic projection. Its light illuminates into hundreds of pinpoints and glows brightly.
RGB – Red, Green and Blue colors available to display.
The projector uses less than 5mW
It's a remote controllable laser outdoor light.
Incorporates both Flash and Static modes.
Built-in heater for cold conditions.
Waterproof IP65
Built with an Aluminum Metal Casing.
LEDMall offers a one year warranty for this LED. Furthermore, it allows for free returns in the case that the parts are faulty. The model goes through several aging tests at variable conditions to adapt it to work in all environments.

With such energy-saving embedded, it's not a bad choice. You get good quality and features in it.
4. Starry Laser Lights (laser light projector outdoor)
Dimensions: 9.8 x 5.4 x 3.6 inches
Included Components: RF Remote Controller
Starry Laser makes high-tech single-source laser lights. The Starry laser lights are simplistic in design yet robust. These laser lights have flashing, twinkling, or stationary modes for your trees or simply star gazing mood.
Beside considering Starry as laser tree lights, it's also ideal to use these laser lights outdoor for an night camping with their brightness and all. They can cater to anything from Halloween to Christmas or a simple decorative mood.
Embedded ambient light sensor in Projector
Green and Blue laser light combination
Indoor-mounting base
Outdoor ground-stake and plug
Automatic built-in timer
Compatible with RF Wireless Remote
IP65 Certified
It is certified by various organizations like FDA, FCC, and ROSH certifying for its quality and resilience. Moreover, if you're willing to spend some bucks, the upgradeable version offers a good remote.

All other features including waterproofness are on point and this unit is definitely quite energy efficient. It's something to consider when you have some bucks to spare for additional features.
5. SKONYON Christmas Laser Lights (outdoor star light projector)
Dimensions: 4.7 x 3.9 x 3.9 inches
Included Components: RF Remote Controller
If you want your house to stand out in your neighborhood, SKONYON Christmas Laser Lights are one of the options for you. You get to choose from four different types of modes with three different color options. It provides super bright and sharp results. These lights are completely weatherproof as well.
Dust, sun, water, and sun will not affect it.You will get a remote with it so you can easily control it from inside of your house within 40 ft. It features a built-in timer so it will automatically turn on and off at specific times and you will not have to worry about it.
Multiple patterns are available.
Red, Blue and green colors are available.
You will get stationary mode as well as a motion mode.
Able to control laser outdoor lights with a remote
Can use outlet or remote to support controlling the built-in timer
IP65 waterproof light.
IP44 waterproof adaptor.
It is certified From CE and FCC.
It comes with an adjustable stand set it at an angle. You can place it in a long range of 30 feet around your house. It is small, easy to use, weatherproof, and durable as well.

It saves you with all the hassles from traditional lights you can only control from inside your house. These outdoor laser light decorations will definitely enhance the Christmas vibes around your house.
Outdoor Led Light with 8 Patterns
Laser lights are really beautiful; you can't argue with that but using that should be with caution. Yes, they could be very hazardous especially when placed outdoors. And since I'll be telling you more about outdoor laser lights then I should also give you a strict warning about this.

When you use outdoor laser lights, make sure that they are only shining your house and garden, allowing your light to shine the sky is very, very wrong. Outdoor laser lights could possibly distract pilots and worse, even temporarily blind them. It might seem nothing to you from the ground but it's different up there, the small light could end up being a windshield-filling blob of brightness up there.

So before setting up your outdoor laser lights, make sure that it will not hit the sky or reflect towards the sky.
When Choosing Your Laser Lights
Here are some factors you can consider when choosing your outdoor laser lights:
What to Consider When Buying Laser Lights
When you buy outdoor laser lights, there's not much to consider but personal preferences. Why? Because you will mostly plug, play, and attach these laser lights on walls, ceilings, and floors. When you choose your outdoor laser lights, you must know what you need and expect from it to be able to be contented once it arrives.
So when you buy it online, make sure to read as many reviews about it as you can. Why? Because outdoor laser lights come in many different varieties, you would want to make sure that it would suit your preference.
---
Different Ways to Use Outdoor Laser Lights
Christmas Tree
You can make some outdoor Laser Light decorations for the Christmas tree outside your house. Instead of spending time decorating it on your own, and having to panic when it rains hard, use an outdoor laser light to decorate it, it saves you time, effort, money, and worries.
To put more emphasis on your garden, a tree, your orchids, or a fountain, well to emphasize the water you want, you can use landscaping laser lights. If you want to put in more effects, just use your laser light to do the job. That way, you don't have to worry about it no matter what the weather is.
There are a lot of other different creative ways to use outdoor laser lights, that's why when it comes to buying them, as long as it's durable and made from high quality equipment, it won't be a waste of money.
How do Outdoor Laser Lights Graphics Work
It's usually controlled from within the box, and what happens in there is the mirrors inside aim the beam at a surface. The beam first bounces one mirror as it moves horizontally and then the other one on right angles as it moves vertically to connect the dots.
It moves quickly from the inside so that the viewers see one whole image. And that shows the pictures of Christmas trees, Christmas socks and others more.
Well, once those pesky little thieves see your amazing Outdoor Laser lights they'll definitely try to get their hands on it, so what can you do to keep them safe?
You can try to add a cable to a stake that you'll bury on the ground. If you know that they'll be aggressive then go as far as using a pothole digger and drill a hole through your laser light and burying a rebar that's wired and connected to your projectors hole. For added security don't just add rocks or soil to the hole, add cement to it.
If you'll be attaching it to a wall, use a strong wall flange and attach it where people can't access it easily.
It's disappointing how people would ruin the Christmas spirit by stealing but that's just how the world is now. It's better to keep your things safe as early as the first time you install it than worrying every time someone passes by.
So instead of worrying or taking the chance, keep them safe from thieves. That way, even if you install it early you and your family would enjoy it longer and feel the Christmas spirit earlier.
Other Option For Outdoor Laser Lights
Motion 8 Patterns in 1 LEDMALL RGB Outdoor Laser Christmas Lights
It has 8 moving patterns with RGB, you can you these outside laser lights on manydifferent occasions thanks for its beautiful patterns, and it also has a firefly. LEDMALL Christmas out door laser light also has a security kit so people can't steal it easily.
LESHP Projector Lights Laser Lights Moving Galaxy
(Red and Green)
This product might be one of the best laser light to choose when it comes to various laser outdoor lighting patterns. LESHP has many different symbols to display, that you can use for not only Christmas but also every other events you want.. It has a very wide coverage up to 3,000 Square feet. It has a built-in 6-hour on time and 18 hours off. It can be used in any weather type because it was built from quality materials.
Conclusion
Now you've come across the variety of options available for these best laser lights. The winner of the product roundup in this best outdoor laser lights review is 1byone Laser Light (outside Christmas projector). These lights will make your house stand out in your neighborhood. Additionally, you can choose from four different types of modes with three different color options. The super bright and sharp results. With complete weatherproof features make your product worth buying.
1byone Christmas Outdoor Laser Light
Your options will differ based on cost, some lights, remote control, and such features. Moreover, the energy efficiency through automated switch and sensors is another thing to consider for long-term savings. All of these lights are water protected as they're built for outdoors mainly, and so they resist most weather conditions easily. They're also a safer alternative to the conventional lights in terms of installation and use. We definitely recommend upgrading to these lights for your next holidays!

Liked our review? Share it with your friends, too! Have a small chit chat with us through the comment section below.
Like this post?
Let us know what you think by leaving a comment below. Share it with your friends, too!
Image Source: https://www.amazon.com/