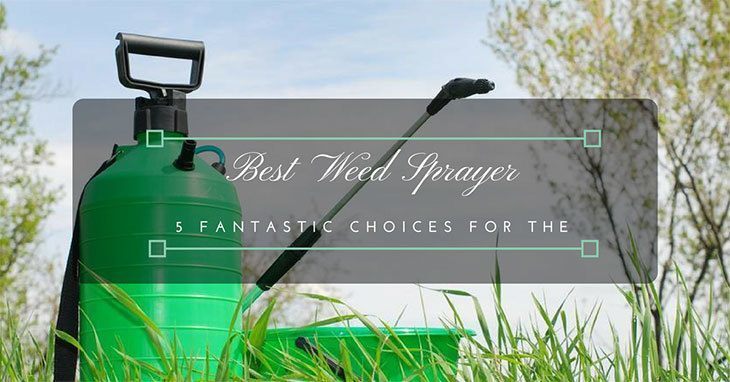 Best Weed Sprayer In 2019: A Definitive Buyer's Guide and Review
Weeds are the bane of homeowners and gardens existence. They pop up everywhere, especially in areas that you want to be weed free. The best weed sprayer keeps your yard and gardens free of unsightly weeds. There are dozens of choices on the market for you to pick.
​Weed sprayers are a convenient tool for homeowners. You can measure out the right amount of chemicals required for a job. You can select between different spray patterns, from drenching an area to a fine mist. Also, you typically can buy concentrated lawn treatment materials and dilute yourself at home, which will save you money in the long run.
More...
Best Weed Sprayer Price List And Comparison Tables
Picking the Right Weed Sprayer
Before you make a selection, you should figure out the problem at hand. If you just need spot treatments, you would want a different weed sprayer than someone who needs to spray their entire large yard. You also will need a larger capacity sprayer. You can find one ranging from a quart to four or five gallons!
Another thing to consider is that you need to have two weed sprayers. You don't want to use the same sprayer for herbicides. The residues do stay inside of the tank, making it potentially harmful to other plants.
Types of Weed Sprayers
There are three types of weed sprayers you will find on the market. Each is geared towards certain tasks, which is why you need to figure out the issue at hand before making the selection.
If you just have simple jobs to fix, you can use a hose-end sprayer. These weed sprayers are the easiest to use as well as the least expensive, a feature everyone loves. All you need to do is attach it to the end of your garden hose! You place the concentrate inside of the attached canister. As it sprays out of the nozzle, the concentrate mixes with the hose water and dilutes according to your selection.
One of the most common selections on the market is a tank, or compression, sprayer. You add concentrated weed sprayer in the tank then add in water. There is no attached hose, so you do have to dilute it yourself. Attached to the tank, you will find a pressurized sprayer that will spread the weed spray across the area. The nice thing about these types of weed sprayers is that the spray is very precise. They are great for all needs, from spot spraying to misting entire lawns.
These weed sprayers are very similar in design to the tank sprayers. The main difference is that you will wear it across your back rather than carrying it in your hand. They typically hold around four gallons of liquid. Also, some backpack sprayers have a lever-style pump that allows you to ensure there is always pressure without having to take it off of your back.
Best backpack sprayer related:
Title
4-Gallon Battery Powered Backpack Sprayer Wide Mouth With STEEL WAND and BRASS NOZZLE, BATTERY INCLUDED
Field King Professional 190328 No Leak Pump Backpack Sprayer for Killing Weeds in Lawns and Gardens
Chapin International 61500 Backpack Sprayer for Fertilizer, 4 gal
Chapin International 61800 4Gal Backpack Sprayer, 4-Gallon Translucent White
Images
Last update on 2019-03-20 PST - Details
Other Factors to Consider for Weed Sprayers
It is easy to want to buy the fanciest weed sprayer you can find, but it might be too much for the job you need to perform. Here are some factors to consider before buying a weed sprayer.
The Size of Your Lawn: How large is the project you need to use the weed sprayer? If you have a postcard-sized yard, you don't need a huge sprayer. If you have a few acres, you will want a larger capacity weed sprayer.
Weight: If you do have a large yard, are you comfortable carrying the weight? You might want to consider a backpack sprayer if you think the weight is too much. There are some tanks that come with wheels, allowing you to pull it behind you.
​Adjustability: Most people like a versatile product. You want a weed sprayer that allows you to choose how much liquid you spray with an adjustable nozzle. It is also great if the sprayer comes with a lock-on, so you don't have to spray with your hand continuously.
Tank Material: You want the material to hold up to constant exposure to chemicals and synthetic pesticides. They can easily corrode a tank. Steel tanks are more durable than their plastic counterparts. However, if you just need it for your medium-sized yard a few times a year, plastic would be an ideal choice.
5 Best Metal Garden Hose — Product Reviews
**Here are some of the options for your quest to choosing the The best weed sprayer in 2018.
01. Smith 190285 1-Gallojn Bleach and Chemical Sprayer for Lawns and Gardens
Our first choice for the best weed sprayer is the Smith 190285. It is a simple, one gallon sprayer, ideal for small and medium-sized properties. Priced competitively, the 190285 is sure to win you over.
02. Smith Contractor 190216 2-Gallon Sprayer for Weeds
The Smith 190216 has a 2-gallon capacity and is the perfect all-purpose sprayer for your property, including commercial applications. They added some impressive features that make this sprayer one of the best options, well-worth the money. You can pick between a one, two and three-gallon sprayer.
03. Chapin 20002 2-Gallon Poly Lawn, Garden, And Multi-Purpose Or Home Project Sprayer
Chapin makes another option for the best weed sprayer. It is budget-friendly and useful for multiple projects throughout your property. With a lot of great qualities, you will be impressed by the 20002 Sprayer.
04. Chapin 26021XP 2-Gallon ProSeries Poly Sprayer For Fertilizer, Herbicides and Pesticides
Chapin is a well-known brand for weed sprayers. The ProSeries is a pump action sprayer with an angled extension. With the extension, you can spray higher areas without losing the right angle. Chapin created the sprayer, wand, and tip with brass, which means it will last for years to come.
05. Chapin 1002 48-Ounce Hand Sprayer For Multi-purpose Use, 48-Ounce
The last choice on our list for the best weed sprayer is also by Chapin. As you can tell, they are a trusted brand! 1002 is their smallest choice, ideal for small gardens or little jobs. You won't want to use this sprayer if you have a large job at hand!
What is the Best Weed Sprayer?
There are quite a few weed sprayers available on the market, but they aren't all the perfect choice for you. You have to look at the job you need to perform. A hose-end sprayer might be better for you than a two or three-gallon tank.
However, one weed sprayer stands out the most – the Smith Contractor. It comes in three different sizes, with different nozzles and adjustability. The materials are made to resist corrosion, and a comfortable shoulder strap makes carrying easier.
This weed sprayer is a great choice for someone who is looking for affordability and adjustability.
Do you have a weed sprayer that you consider the best? Let us know in the comments!
Like this post?
Let us know what you think by leaving a comment below. Share it with your friends, too!