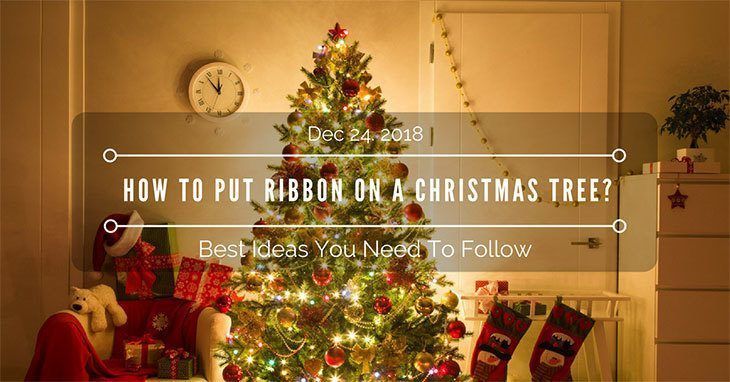 How to Put Ribbon on a Christmas tree 2018: Best Ideas You Need To Follow
Do you want to have fantastic decorations such as having best outdoor laser lights this coming Christian season? Apart from the keepsake Christmas tree ornaments, your tinsel, twinkle lights and other decorations you use for the Christmas tree, consider adding a lovely thick Christmas ribbon.
Whether it's patterned, solid, gauzy, sparkly or satiny, a ribbon creates the ideal final touch for the holiday tree. With the proper use of ribbon, you can make a tree, which looks like it popped out of a magazine.
In this article, you will know how to put ribbon on Christmas tree during the decoration stage, how to twine the ribbon around the evergreen boughs, how to create a stunning tree topper with the ribbon and know how to keep the ribbon after use.
How to Put Ribbon on a Christmas tree?
How to Put Ribbon on Christmas tree?
​​​​​You will find many different ways and tips on how to put ribbon on Christmas tree, and most of the times, it depends on the look you wish to achieve. This process makes use of an assortment of wired Xmas ribbon and offers a less structured, more natural look for your tree. Apart from that, it also offers the illusion, which you utilized more ribbon that you actually did.
Step 1: Begin with an empty tree
Whether you have a used tree or a new one, you need to begin with an empty tree with lights only. Remember that you add ribbon to the tree prior to adding anything else. Doing this makes a lot easier than having to work on ornaments. This also enables you to get your ribbon deep to the tree.
Step 2: Cut the ribbon
Depending on your preference, you can buy several coordinating ribbons in different textures and widths. You will find several stores, which offer a wide range of selection of designer Christmas ribbon this time of the year. Then, cut strips from different rolls at a time, every strip must be at least 4 feet long.
Step 3: Make ribbon bundles
After you've cut a 4-feet strip from your 3 coordinating ribbon rolls, place two of the strips on the topmost of each other and pinch it in the middle. Then, connect the third strip to other two to make a small bundle.
Step 4: Add the ribbon bundles to the Christmas tree
In order to add every ribbon bundle to the Christmas tree, you can place it far down of the branches, and then cover one of the wire branches to keep it secure. On the other hand, if you have a real tree in your home, you can use some wired Christmas tree ribbon to secure it. Spread the ribbon out and tucked its ends to your tree casually.
Step 5: Repeat the process
Repeat the process for several times until you have covered your Christmas tree relatively consistently with ribbons.
Step 6: Add the ornaments
After you are done with positioning your ribbon, you can now add the tree ornaments, putting some behind and some at the top of the ribbon.
5 Different Ways to Use Ribbon on Christmas tree
Aside from thinking about putting some Xmas laser lights, you might want a beautiful Christmas tree as well. Adding a Realtree ribbon to a Christmas tree is one of the most complicated parts of decorating a tree; however, it does not need to be. Here are the 5 different ways to utilize a ribbon on your Christmas tree.
Barber Pole Method
Perhaps this is the most typical way of tree ribbon decoration. In order to use the barber pole method, you can begin at the topmost of your Christmas tree and tie one end of the ribbon to your tree with the use of chenille sticks or floral wire.
On the other hand, crisscross method is a more advanced method on how to add ribbon on Christmas tree. This type of method will utilize twice the number of ribbon as the first method.

In case you didn't know yet, this method is specifically alike with the first method, except that you will run a barber pole going to the left of the tree and other to the right part of the tree. Nevertheless, the challenging part of this method is to try getting the right and left part to be symmetrical as well as cross at a similar point on the Christmas tree.
The third method is the swag method. This is the most sought-after method for applying Christmas ribbon when cranberry and popcorn ribbon was mainly utilized; however, it's still an alternative to ribbon garland.

To achieve this method, perform the same process as the barbell pole tuck method; however, the only difference is you swag the ribbon in a loop pattern. You might prefer to cut the ribbon into pieces so you can go straight across the tree and complete the circle on the other part than keeping your ribbon in one piece.
Random Method
A lot of people wish a more casual, organic and free-flowing Christmas tree décor. Those people might want to utilize the random method of placing ribbon and tree bows to their tree.

For you to add ribbon to your tree with the random method, place the end of your ribbon to the topmost of the tree and tuck in a section at a random area on the Christmas tree. Just continue tucking right up, left, down, diagonally on the tree in the same parts. Ensure to step back infrequently to look at the development and do any changes.
Glitter Rope Tape
A ribbon, which has recently become famous for decorating garland with ribbon is known as glitter rope tape. Did you know that this isn't a sticky tape; however, a coiled glitter garland? This can be applied to a tree in several ways, but it's rigid and likes to stay in a curled form.
You will find some designers who want to have in applied casually, curling right, left, down, up and diagonally. It doesn't like to be bent or straightened.
Essential Tips for Beautiful Christmas tree Ribbon
We always try to decorate our Christmas tree in the most creative way possible; however, we end up beautifying it with the same old garland and ornaments. But, worry not as we will provide you with amazing decoration tips and ideas for your Christmas tree below.
Choosing the Right Ribbon
You can utilize either a wide Christmas ribbon wired or unwired one; however, you need to ensure that you pick a type, which holds some shape and form. An unwired craft ribbon works for twisting loosely around your tree; while the wired ribbons hold its shape better and work very well for long curling streamers.
Further, a rolled ribbon having an 8 inches diameter across the roll is enough for a standard Christmas tree. So, ensure that your unrolled ribbon is between two and three inches wide.
*Here are some decoration ideas with ribbons you can use:
Striped Ribbons
Such striped ribbons are looking undoubtedly lovely, decked on a flocked tree. This neutral colored ribbon is going very well with the decoration of white and red. You can also add with it a minimal decoration of red cranberries, pinecones, and ornaments that will surely look stunning.
Beige Ribbons
A beige ribbon is utilized to beautify a small sized Christmas tree. Aside from that, you can utilize a tulle, flags and crystal ropes.
Plaid Ribbons
If you want to achieve a countryside or rustic Christmas theme to your décor, then using plaid ribbons is an ideal option. You can design it with a pinecones, cap ornaments mitten and lights.
Velvet Ribbons
If you wish to provide a majestic and grand look to your tree, then, why not have it with a velvet ribbon in contrasting or similar color. Or you can also utilize two different colored ribbons, any color goes best with your tree. You can also fill your Christmas tree with some ornaments as well as other shimmery objects and you are sorted.
Silver and Black Ribbons
Do you want to bring your Christmas tree to a whole new level? If so, you can decorate it with a black platinum pleated ribbon. If we're just talking about grand, decorate your tree with silver, crystal and gray baubles.
Tree Topper using Ribbons
In addition to wrapping your tree via a plaid ribbon, did you know that you could also try creating a tree topper out of it? Doing this is very easy, as you only need to create a Christmas tree bows out of it and put it on the top of your Christmas tree. Make sure that you make your bow strong so it does not fall off.
Burlap Ribbons
Are you looking for a last-minute Christmas tree ribbon decoration idea? Then, this is ideal for you. If you have a burlap ribbon in your home, you can add to your tree. Using it will offer a unique and gorgeous look to your tree. Apart from that, it can offer a woodland touch.
Blue Ribbons
Provide a frosty and icy look to your tree by decorating your Christmas tree with blue ribbons. In order to make it look more attracting, you can simply organize the ribbon on a frozen tree. The effect will really be unmatched. Plus, do not forget to add some icy cool silver and blue ornaments.
Red and Blue Ribbons
Probably, red and blue ribbons is one of the preferred Christmas tree ribbon decoration ideas. You'll surely take your eyes off it because of the stunning red and blue color combination.
Removing and Storing Your Ribbon
Each year, every time you get rid of the ribbon from your Christmas tree, make sure that you do it slowly and gently so as not to rip the ribbon. Roll every kind of ribbon up tightly and neatly and tuck the toll of the ribbon in a bag or box.
Make sure to keep the lid on your box or store the bag secured to avoid dust from accumulating on the mesh ribbon Christmas tree. Doing this will keep your ribbon fresh and prepared for use next year.
Conclusion
There you have it, everything you need to know about how to put ribbon on Christmas tree and essential tips and ideas on what type of ribbons to use. You will find many different ways in which you can beautify and decorate your Christmas tree with a wonderful ribbon; all you need is some creativity.
Tell us how you think about this post by commenting below! Hope to read your thoughts!
Happy Christmas season everyone!
Like this post?
Let us know what you think by leaving a comment below. Share it with your friends, too!