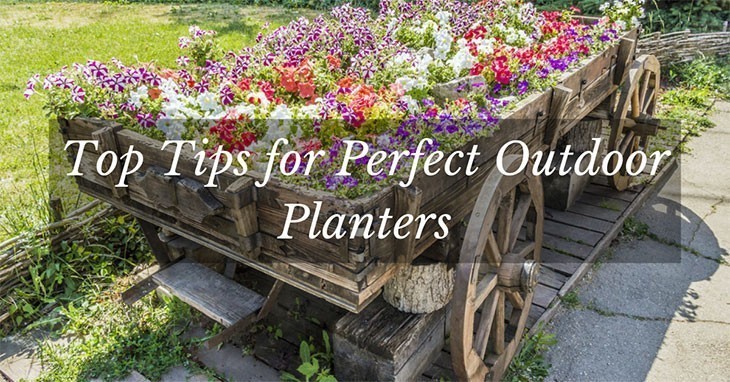 This has to do with the structure of container planting.
---
Pennisetum setaceum & Rubrum better known as Purple Fountain Grass is a great structural plant. When choosing plants in 4 or 6 pots, it is a good idea to consider the eventual shape, height, and the growth habits of the plant. Many plants will either be trailing, broad, or upright. The container combinations that are the most successful will typically include one or more from each of these forms.
You may want to start your outdoor planters with upright and tall plants, like Purple Fountain Grass, or a dwarf canna lily. Now add 1 to 2 mid-height, broad plants like coleus, heliotrope, dwarf dahlias, or African daisies. Now choose a trailing form like bacopa, liquorice plant, sweet potato vines or ivy geranium.

Another guaranteed method to design and create an architectural statement that is strong is to just use a single plant that is bold in an outdoor container. The ideal candidates to achieve this effect includes an upright and thick bamboo clump or the symmetry that is perfect from a New Zealand flax. Another great idea includes flanking your entryway with false cypress or dwarf Alberta spruce pairs.

Clumps of ornamental grasses like the feather reed-grass can also achieve a very bold statement. You can also draw attention to trailing forms in a celadon-green, tall urn filled with sweet potato burgundy-coloured vine. Read an outdoor planter buying guide to get the best planter for your requirements.
This planter contains shade-loving plants.
---
If you use shade-loving impatiens in a window box and you position them on a west-facing sunny location, these plants will not thrive. It is also not a good idea to use sun-loving geraniums in a shady area like your porch. You need to consider where you will locate your pots and then choose a plant that will enjoy living there. The labels on plants will usually have a list of the shade or sun requirements (you can also read over our recommendations at the end of this article).

It is also of importance to combine the plants that have moisture requirements that are similar. For example, a moisture-loving hibiscus will not grow well with a desert-loving portulaca. The preference in soil is another important consideration. A container filled with thyme, bay, and rosemary needs to contain sharply drained and a sandy soil mix which is able to mimic Mediterranean conditions, that these plants are used to.

A plant like Fushia prefers a moisture-retentive, humusy soil which is the soil conditions found in tropical and wet rainforests. The labels on plants or a sales associate that is well-informed can assist you with this information.
A combination of fine and coarse textured foliage can assist in creating an interest in your plantings.
---
Foliage is as equally important when compared to colours to create container plantings that are successful. Once you have thought about a few candidates think about the surface texture and size of these leaves. The textures of leaves range from shiny (c​​roton) to waxy (ivy geraniums), to velvety (dusty miller) to prickly (asparagus fern). Foilage that contrasts really grabs attention.

For texture combinations that are exciting, think about something like the hair-like tufts from ogon, also known as lemon-yellow grass, combined with the lime-green spiky leaves of succulent Angelina, and the waxy leaves from Sedum, along with lacy flowers from the Coral Flying Colors
Experiment with a few colour combinations that are bold.
---
A container planting that is well-composed can be just as stimulating visually as a good painting. Create excitement and energy by mixing up complementary colours like blue and yellow or orange and purple. Or you can create a soothing composition in the way of limiting the colours to yellows and reds or pinks and blues. It is also possible to achieve a highly sophisticated and stunning look when you use greens, silvers, and whites.

When you choose foliage and flower colours, consider the colour of your patio pavers or deck or the outside colours of your home, along with the colours in the adjacent borders and beds. With this in mind, planters and pots offer the ideal opportunities to start experimenting with colour combinations that are dramatic that you would never try out in the landscapes that are permanent.