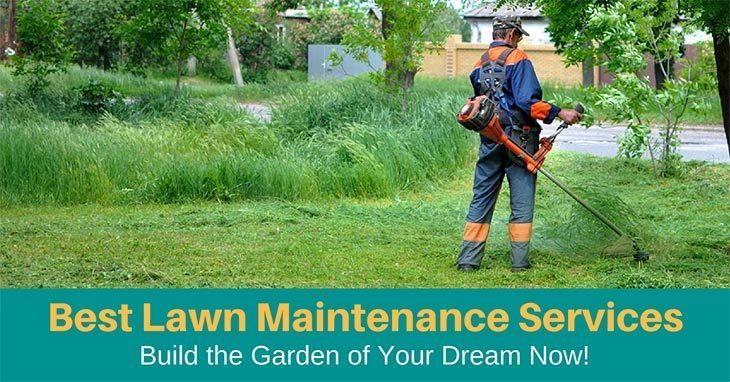 Best Lawn Maintenance Services: Build the Garden of Your Dream Now!
Gainesville is one of the favourite cities due to its warm weather temperature and proves to be an excellent place to live in either for work or the family. Lovely, clean gardens are among its main attraction - thanks to the lawn care companies as they are very reliable in offering lawn care services. Regardless of your garden or lawn maintenance needs, they will never disappoint you.
More...
Lawn Care Service Description
Those with hectic schedules but want to ensure the aesthetic beauty and function of their garden dramatically depends on lawn care or landscape maintenance service. Especially during the warm season, you will need to mow your lawn around once per week. The time you will spend on completing this task varies depending on the yard's size and the type of mower.
The landscaping requires additional care, which involves weeding, planting, laying mulch, pruning, fertilizing, and ensuring the plants get enough amount of water. If there are trees in the yard, trimming them and raking up the leaves is a requirement for a clean, healthy garden.
Thankfully with the help of professionals or companies, doing this job is not time-consuming and complicated anymore. Merely hire their services and be amazed by the full transformation of your lawn later!
How to Lawn Care and Maintenance
As a homeowner, you need to know lawn care basics to keep your lawn beautiful and healthy year-round.
So, we've rounded up simple ways of lawn care maintenance. Here we go!
Compacted soil, even the best topsoil for a garden, keeps the lawn from blooming. Thus, it is essential to aerate your lawn in a high growth period. By doing so, the soil will be loosened - resulting the nutrients and water to absorb better.
2. Best slow release fertilizer
Fertilizers are definitely the key to an exquisitely green lawn. Without this nutrient supply, the grass will quickly consume the nutrients in the soil, not to mention its growth will be pale and thin.
Every grass needs water, though that amount will vary depending upon your type of turf. But, there are times when (particularly during summer) in which temperatures are harsh on grass. Some simple signs will indicate if your lawn requires watering (e.g. the grass blades is starting to wilt and bend).
4. Top dress your lawn with compost
Experts recommend top dressing lawn with compost that is of the thin layer. It helps improve the soil moisture holding capability, feeds soil microbes, and adds nutrients. A healthy microbe populace promotes a substantial green lawn.

However, the quality of compost differs from one another, so you should choose thoroughly. Your composting system should be able to kill off the majority of herbicides and pesticides.

The use of edgings is also necessary as they limit grasses from out bounding your lawn and giving it an entire appearance. You can use brick, timber, or concrete edging or plastic edging.
6. Don't forget to mow it
It is recommended not to cut the lawn when the grass is still wet and always use sharp lawn mower blades for an even and clean cut. A maintained blade below par will leave grass tattered and more prone to disease. With every mowing, cut off only less than the top third of the grass blades because too much cutting will take it longer to recover.

Plus, it might potentially stress the plant and lead to unattractive browning. Warm-season grasses may need more sessions pushing the mower, while the ideal height for cool-season grasses is around 2-4 inches.

7. Apply weed and moss control for a perfect lawn
In order to make your weeding a bit easier, apply weed killer during early spring before allowing the weeds to grow strong root system. Get rid of random weeds either by a garden hoe or by hand. Moss is a problem especially in poorly drained places, so it is necessary to remove it before it destroys your grass.
Choosing Your Lawn Maintenance Services
Get these steps to keep a lush and healthy yard!
Whether you are not a gardening type of person or only don't have time to turn your yard into a beautiful looking one, you can always hire lawn care service companies to come and do the job on your behalf. Know exactly the type of services you'd like from them and request for an estimate before signing up.
Only few lawn care companies offer complete services. Some rake debris, water, mow, etc., while others time-release fertilizers, control weeds, and spray for insects and disease, which leaves homeowners to water, fill bare areas, and mow.
Gainesville Lawn Maintenance is What You Need!
No matter what lawn service you're considering getting our list of yard care services is assured to protect your garden and investment at the same time. By using us for all your lawn needs, you're saving yourself and your landscape from less hassle and a lot of work - which you can use on other important things.
After deciding the maintenance, you need, we can offer you a lawn inspection and free estimate of service charge. If you're happy with our services, you can eventually decide the type of agreement about the expenses, how you want the routinely garden maintenance to take place, as well as the expected results. Get an assurance that pesticides will be used all the times, not just "weather authorizing".
Keep Your Garden Looking Good with Gainesville Lawn Maintenance Services
A well maintained and attractive lawn is such a delight to watch, not to mention it upgrades the overall value of a property. Those who are planning to sell their property should not overlook what lawn maintenance offers as it can be your ticket to a great sale.
The first impression is essential, and they will not only check your home interiors but will see how well you've maintained your landscape and exteriors as well.
So, what are the lawn care maintenance services you can expect from us?
Whether it is giving your garden a complete makeover or requiring a landscaping service in your Gainesville property, our team can successfully complete the job.

Rest assured we can offer you a sophisticated design that you will find attractive. Our team of professional landscapers has extensive design ideas in mind that are sure to fit in any lifestyle you have.

Want something low maintenance so you won't spend too many dollars on maintenance? Kindly contact us and we will design around those needs.

Garden is one of the big assets of a home as it brings the family together. It can be a place for family gathering, barbeque picnic, or relaxation. Hence, it should be well maintained to make it more fun and exciting.

If you spend most of your time earning a living and find it quite hassle to maintain your garden, then we could be of utmost help! Have a peace of mind that we can save your garden while having time for your agendas or other errands. We are the best Gainesville lawn service company and we have the awards to prove that.

We've won the Best Landscape Contractor Award three times in a row. This is just one of the positive testimonials from our clients letting us know we are excellent at what we do.

Have a lot of trees around your house and want to take them out or get them trimmed completely? No biggies! Just call our team, and we will immediately arrive at your place.

Cutting down trees or getting them trimmed is both a challenging and dangerous job especially if you don't have the right set of tools and have only limited know-how about the process. Save your day by letting us take care of the risk while you are sitting down and enjoying a drink!

Still undecided whether to cut down your trees or trim them? Seek help from us! Our team of experts will give you advice if your tree should be cut down, trimmed, or left untrimmed until when due to be worked on.

When it comes to irrigation, a do-it-yourself job may be good, but depending on our expert hands is better.

You may be thinking that your plants are not getting enough water they need. Some plants with deep roots will require deep root watering rather than sprinkling water on its leaves. If you water your plants the similar way, some of them will be clogged with too much water while some will be under-watered.

Our irrigation service will not only save your time and is an easy task but will also turn on your sprinkler system and allow it to do its thing. So, give us a call so that we can talk about the best option for your garden. Our customer satisfaction is our top priority more than winning awards. We look forward to your call!

Whether it is to transform a dull backyard into a beautiful, family-friendly retreat or boating the curb appeal of your home, we all want a little area of green paradise.
Make your neighbor envy with a beautiful, healthy garden! We welcome our first-time customers with a 10% off of any of our charges, so hurry and be one of us!

Did you enjoy the article? Share it with your friends who badly need a lawn care maintenance service. Don't hesitate to leave us a comment below. We'd love hearing from you!

Like this post?
Let us know what you think by leaving a comment below. Share it with your friends, too!