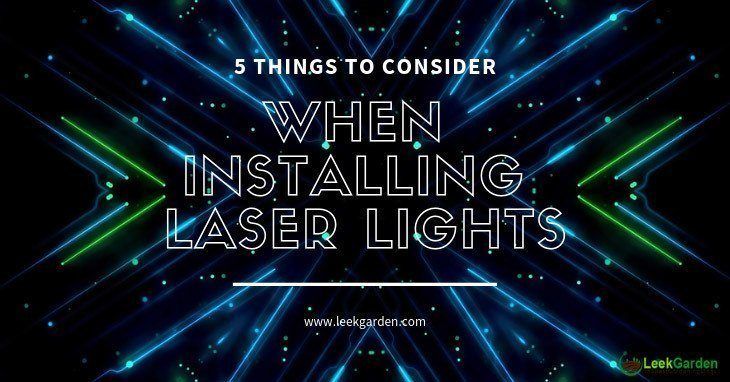 How To Installing Outdoor Laser Lights in 10 minutes: 5 Tips Help You Do That Easiest
Laser lights add extra décor to the house during the festival season. It looks dazzling when it is creatively installed in your outdoor area. You can install these outdoor laser lights without spending too much time. There is a variety of colorful laser lights in two standard colors red and green.
With a click of a button, you can switch on these outdoor laser lights from within your home. Nowadays, most of the laser lights feature a built-in timer which helps you to preset the time in which the lights must be switched on and the time to automatically switch off. You can use laser lights for any special occasion to brighten the mood as it provides an amazing party effect with rapid red & green laser dots. You have to take care when choosing laser lights as the wrong choice can cost you money & frustration.
More...
Check out the below tips for installing the laser lights in outdoor in less time with ease.
Tip 1. Laser colors
Laser lights are available in several colors and various settings. It is important to consider certain factors while installing the outdoor laser light. One such factor is to consider what color the laser light emits.
There is red, green, and blue laser light with a remote which produces sparkling glitter and it makes a perfect laser light projector. There are tri-color laser lights available in the market which you can just fix it and enjoy the colors emitted. Standard color combinations available in laser lights are red and green which can be used for Christmas decorations.
If you are looking to use laser lights for other functions or parties, use red, green, and blue laser lights. White light is produced by mixing these three standard colors if you need to increase the color range just mix more than three colors. The green beam laser is very effective to use at outdoors and in bright light.
Tip 2. Waterproofing
Most laser lights are used for outdoor decorations. So when you install outdoor laser lights for your house make sure whether it can withstand the environmental conditions around it. Laser lights must be fixed in such a way that it can handle or is safe from rain, water sprinklers, garden mist fans, etc.
If you love to hang the colorful laser lights outside, definitely it needs extra protection from rain and snow. It is better to purchase a sturdy, versatile, waterproof, and multi-colored outdoor projection lights for every home. Waterproof laser lamps can be used either indoor or outdoor but try to place it in a dark room as it gives a great look.
The Geeks laser Christmas light available online is designed with eight patterns and it is one of the best waterproof laser projectors. This laser light's design gives along durability and it is also waterproof as well as dustproof, thus ideal for outdoor use.
---
---
Tip 3. Laser Patterns
Laser lights can produce amazing effects and can add visual amazement like no other light can. The lights are produced using laser projectors and another most popular laser projector with so many patterns is the RGB.
It has varieties of laser patterns and shapes that are merged with jazz music projected from a laser show projector. Patterns are at the core of laser lights and it is the main factor which displays what laser lights are all about. Different laser effects can be projected across wide angles. You can test various projections using this model.
It is also possible to combine laser patterns and effects with multimedia elements such as video, DMX lighting, timecode, etc. You have to choose which colors you want to display and how the colors must move and morph.
Tip 4. Versatility
The laser lights create a dazzling effect for special occasions like birthdays, Christmas or any other special event. The laser projects can create diverse lighting patterns so you are not stuck up with one choice as there are multiple choices.
Nowadays, most of the laser projectors come with a remote handy so you need not manually turn on or off the lights. Some controllers have a range limit within a few meters while others can reach even up to 100 meters. When you plan to install laser lights choose the light that is bright enough to your liking. Laser lights are versatile and it comes with an auto-timer function to save the power.
Some projectors have options for different shapes, effects, colors, and patterns. To automate the lighting, just set timers for two, four, and eight-hour intervals. Make sure it is weather-resistant so that it may last for a long time.
Tip 5. Indoor/Outdoor
Laser projectors are available for both indoors & outdoors. Most modern laser projectors can be used both indoor and outdoor.
Outdoor projection lights will be suitable for pool parties, holidays, birthday, wedding, or other celebration. There are different varieties of outdoor projection lights that use either LED or laser light source. Homer Parker from bestfanreviews.com has this advice for anyone fixing laser lights, "never fix a laser light at a location where there is a fan or blower. You won't get the majestic effect which you would get if there is no ceiling or outdoor fan in that area."
If you buy the laser light for indoor use then it needs not to be waterproof and it needs to have a shorter projection range than outdoor ones. Outdoor projectors are extremely bright than indoor ones. The projector has a light sensor which turns on the laser light at dusk and off at dawn.
Key factors:
Conclusion
Laser lights can take you to the festival mood very quickly. Be careful when installing laser lights at your home or garden. Choose a product which satisfies all the above points. Let us know your experience in the comment form below.