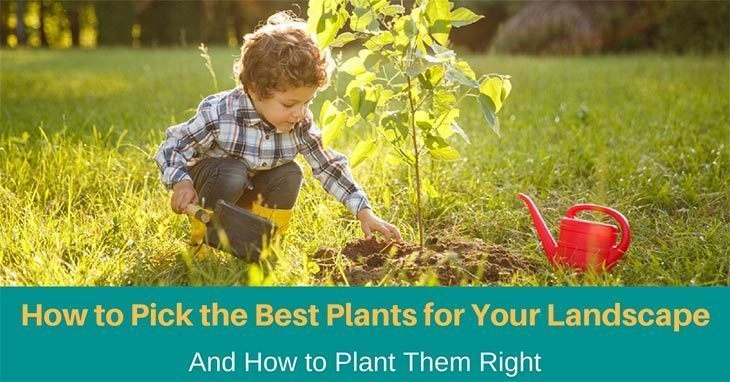 How to Pick the Best Plants for Your Landscape (Proven Tips In 2019)
So, you're planning to have those beautiful plants for your landscape? But, how great are you when it comes to choosing the right plants? Indeed, there are specific considerations once deciding for the best plants for your landscape.
It is your goal to make your landscape a lot more attractive, right? If yes, then be guided on how to pick the best plants to consider along with some tips on how you could plant them the right way.
How to Pick the Best Plants for Your Landscape
More...
Guide to Picking Plants for Your Landscape
Consider the following factors once picking the best plants for your landscape:
Types of Trees
Of course, there will always be room for error. However, if you put a big tree in an area wherein it doesn't belong, wouldn't it be so annoying? So, what should you do to avoid such mistake?
When choosing a tree, you need to be very wise. Most trees could be slow growers, so this means that you need to wait almost numbers of years to gain the benefits of planting them. It is crucial that you should know what to expect first before you plant a tree.
Be familiar with the categories of trees, which include the following:
Garden Shrubs
You might as well consider shrubs, and some of them are good options for foundation plantings as they stay compact, so there is a need for a minimal maintenance only. Roses could be so favorite since they are appealing to both your nose and eyes.

There are also categories of shrubs that you might choose from such as the following:

Vines
Most homeowners would like to classify vines based on how they will be used in the landscaping. Due to their vigor and versatility, most gardeners love vines. However, there is a need for you to be very careful as you choose for the best vine. Most vines are considered as invasive plants.
Ground Covers
Some of the ground covers are referred as foliage plants, and with that, they aren't popular as spectacular flowering displays though they have these attractive leaves. Blue Rug Juniper is a very popular ground cover for landscaping.

Nevertheless, many homeowners would want more from the ground cover. They want for it to bloom profusely and could prevent soil erosion too. With that, flowering ground covers might be considered.

Perennials
Many would love flower gardening that is almost the same with growing perennials. If you don't want to replant annuals yearly, then having some perennials which come up after year is considered to be a no-brainer for low maintenance.

You just have to remember that though they could be in low maintenance; still, they aren't maintenance-free. You have to expect to perform certain tasks like dividing the perennials keeping them robust. And of course, you need to keep your lawn neat and clean.

Below are some of the categories of perennials:

Annuals
And for annuals, three common options that you might consider are the following:
However, choosing plants must depend on the shade or sun preferences like impatiens and red salvia.
Other Factors to Consider
Other than the ones discussed earlier, other factors must be considered. And these factors are as follow:
Landscape Plants: Tips on How to Plant Them Right
Now that you already have an idea whether what kinds of plants could best suit your landscape garden, it is best that you should also know how to plant them right. Each kind of the above mentioned landscape plant needs a slightly different method of planting and so knowing the right way must be considered.
Here, I will provide you some of the best methods you should try:
Planting Shrubs and Trees
Considered as the bones of the landscape plan, shrubs and trees must be planted first since it won't trample the smaller plants while planting, the bigger ones. Besides, you will have an idea about the available space you have left for the smaller plants. In planting these kinds of plants, be careful to follow these:
Watch this video to learn how to plant shrubs:
Planting Perennials
On the other hand, perennials should also be planted carefully. They are those plants that could live for numbers of years. But, most might die to the ground especially during winter and could go dormant. These plants are also best planted after you already situated the shrubs and trees.

And just follow these:

Planting Annuals
Again, annuals are those plants which required to be replaced every year since they could only live for a season. They are utilized for color, and they could fill in around perennials. And they look best once planted in groups with the same species and colors.
Simply follow the tips above carefully and you will surely have a beautiful landscape garden.
Conclusion
So, you now have an idea about which plant best suits your landscape, right? And you also have gained some important tips on how to plant the different kinds of plants. Are you planning to start showing your gardening skills now? Just bear in mind the things I have mentioned above for you to be guided throughout what you need to accomplish. Have a beautiful and attractive landscape by choosing the right plants!
Here's a video to watch as to how to choose the best plants for landscape:
Like this post?
Let us know what you think by leaving a comment below. Share it with your friends, too!