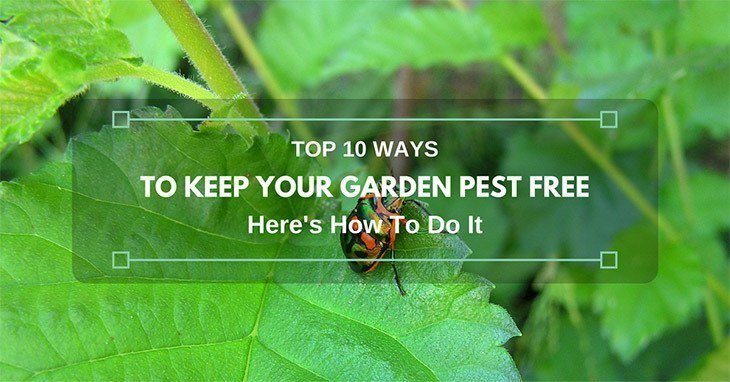 Top 10 ways to keep your garden pest free: Here's How To Do It
It doesn't matter if you're a gardener who doesn't want to use pesticides or you're pro-chemicals when it comes to protecting your plants, pests in the garden are a big deal breaker. Your flowers, herbs, and vegetables would do much better if you could make sure insects and other pests stay away. We give you a list of seven easy ways to make sure your beloved garden pest free.
10 Ways to Keep Your Garden Pest Free
1 - Good Kinds Of Poison.
Those who grow vegetables for their personal use will steer clear of pesticide and other poisonous chemicals, and that's understandable, but there are other 'poisons' you can use without fear which are equally effective.
Beer, salt, coffee, flour, and garlic are excellent pest-repellents which are completely safe for humans. Blend an entire garlic bulb with two cups of water, leave it for a day, strain liquid through a cheesecloth, and use liberally on top and bottom of leaves. This is an effective organic insecticide you will love.
2 – Attract Good Predators.
One of the best and environmentally friendly ways to deal with pests is to draw their natural enemies to your garden. Try not to overdo it, though, otherwise, you'll end up with a different problem – predators, former allies who turned enemies. Plant lice are food for different ladybugs and wasps, while slugs are preyed on by lizards, toads, and different ground beetles.
3 – Herbs To Aid You.
There are good and bad insects for your plants, and beneficial ones come when your plants are in bloom. You can try planting yarrow, cosmos, alyssum, lemon balm, fennel, parsley, and coriander to attract good bugs and at the same time repel pests. Many aromatic herbs also repel plant lice and potato beetles and attract the predators that keep those obnoxious pests under control.
4 – Bring Forth The Coffee.
A simple yet wonderfully effective addition to your garden is good old coffee grounds. A great number of pests can't stand them, but at the same time, they increase the acidity of soil by adding nitrogen to it, which is a real treat for acid-loving plants. Coffee grounds are great for composting and slugs, cats, and even deer hate them.
5 – Slug Traps.
Slugs are by far the most annoying pests you can find in your garden, as they are difficult to spot but they still cause major havoc among your plants. Luckily, you can trick them and trap them with ease, as they aren't too bright. You only need a shallow container or an orange rind in which you should pour some beer or grape juice. Place half-rinds from citrus fruits (oranges and grapes) all over your garden and you will discover that slugs flock to the rind during the night. In the morning, just throw the rind to trash and make a new one.
6 – Make Hot Pepper Spray.
Hot peppers are another great ingredient for organic insecticide sprays, and you should wear gloves when preparing it. Add two cups of chopped hot peppers, a bulb of garlic, and a tablespoon of cayenne pepper to a food processor and place the puree in a bucket with four gallons of water. Leave it for a day before you strain it, and pour it in a spray bottle along with three tablespoons of dish soap.
7 – Insect Repelling Plant.
Image via http://www.remediesandherbs.com)
Even in nature, there are plants which naturally repel insects. We already mentioned some of these herbs you can plant in your garden in hopes of keeping insects at bay, but you can also use margosa leaves. Take a handful of margosa leaves, crush them, and let them sit in water overnight. Keep in mind that hot water may rob the leaves of some of their properties, which is why it's best to use cold water for the process. The following morning, pour the water into a spray bottle and use in your garden to protect plants from insects.
8 – Use Mulch.
Mulch is great for several reasons, as it protects your plants from cold as well as from insects and other predators. Spread it in a thick layer but make sure that the mulch you use should be at least 4 or 5 inches thick. Not only will this protective layer prevent excessive water evaporation, but at the same time, it will be a great habitat for good insects such as ground beetles. Use should use organic mulch because it will slowly break down into nutrients, so dry leaves seedless straw, and plain old wood chips make the best mulch.
9 – Be Careful In Your Garden.
No matter how careful around your precious plants you think you are, sometimes even the smallest and seemingly insignificant actions we do can result in problems in your garden. It might have been your best intention to help your tomatoes grow big so you used too much nitrogen fertilizer, and now this tender growth attracts a great number of aphids. Or you might have been reckless and ended up walking through the garden after rain or after you've watered it thus compacting the wet soil and making your plants more prone to insect attacks. Sometimes we forget those little things and how important everything we do is for our plants, so it's wise to brush up on your proper cultural practices and double-check to see if your actions will have good consequence.
10 – Call Professionals.
If the pests keep coming back and nothing you do seems to make a difference, don't despair. There is a way to handle this situation, even though it might seem like it's hopeless. Pest control Sydney specialists use environmentally friendly products that also happen to be great for people with severe allergies as well, so you don't have to worry about not being able to go outside after your garden's been treated.
Conclusion
Top 10 ways to keep your garden pest free:
Good Kinds Of Poison.
Attract Good Predators.
Herbs To Aid You.
Bring Forth The Coffee.
Slug Traps.
Make Hot Pepper Spray.
Insect Repelling Plant.
Use Mulch.
Be Careful In Your Garden.
Call Professionals.
No matter how small the pests are, the damage they could do to your garden can be great, which is why you should react the moment you suspect that something is off.
There are many organic and natural ways to deal with the inconvenient slugs and aphids, but if you think that you could use a hand and get better results with chemicals, don't shy away from using them too.
Like this post?
Let us know what you think by leaving a comment below. Share it with your friends, too!