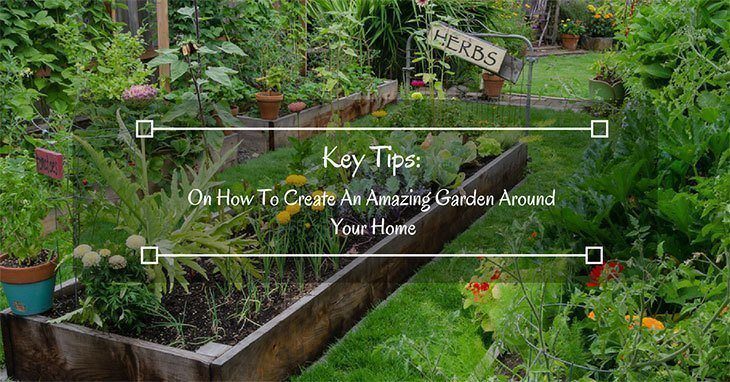 Key Tips On How To Create An Amazing Garden Around Your Home
What do you do when you have a wide space around your house? Of course, you do not want to leave it bare. You will want to do something useful and attractive to this place a garden is a perfect solution.
Gardens are what makes your home extra beautiful. Plants are not only naturally beautiful but also have many useful features. Gardens may be hard to establish, but the after effect just makes the hard work worth it. Here are some key tips on how to create an amazing garden around your home.
Do A Soil Test
First and foremost, have your soil tested to see if it is suitable for growing a variety of plants. This test will let you know what kind of plants are applicable for your lawn's soil. You should also identify what kind of weather you experience to know which plant will survive in your area.
Plan Your Garden
Before grabbing a shovel and planting your plants, you must have a garden plan. Get a graphing paper and plot out your lawn. Plan where are you going to place each plant and where are you going to place other items in the garden.
This is also when you decide where to place the pathways and which plants will be planted in soil or pots. This plan will serve as your guide to where you will place everything in your garden
Add Flowers
If you want a beautiful garden, then add flowers to your garden. Pick flowers in varying colors, shapes and sizes to diversify your garden beautifully. These flowers will make your garden colorful and inviting. You can pick flowers that bloom in different seasons so that you have some blooming flowers all year around.
Control The Weeds
Weeds are freeloading plants that consume the resources of your plants. They destroy the health and beauty of your plants. Get rid of them. To prevent weeds from growing around your plants, you can put mulch on the soil around the plants. Mulch can also be an added design to your garden.
Place Garden Artwork
Flowers are not the only design you can put in your garden. You can be artistic in placing artwork in your garden. You can display sculptures and figurines that you bought or made yourself. You can also create an arch or a pole where you can also place some of your vined or potted plants.
Choose A Centerpiece
You may have that favorite plant that you want to be the first thing that you will see when you spend time in your garden make that favorite plant of yours the center of attraction. You can place it in the most appropriate spot and have its surroundings blend in to emphasize that favorite plant.
Use Furniture
Do not just stare at your beautiful gardenbe in your garden and enjoy your surroundings. You can put furniture such as tables, chairs, benches, etc. in your garden. Do this so you can have a spot where you can just sit and relax while reading a book and taking a sip of your favorite drink.
Go Beyond Soil Plantings
Who says that your lawn's soil is the only place you can plant your garden? You can make use of every single spot around your house. You can hang pots on your terrace.
You can grow vine plants at the bare wall of your house, garage doors or even on trunks of existing trees. You can also use your house walls by attaching plant beds. This method is called vertical gardening and the technique is ideal, especially if you do not have a wide enough space in your garden.
Make Spaces and Pathways
Plants need space to grow. Provide adequate space, especially for plants that become wider as they grow. You should also create stoned pathways around your garden for easy access. These spaces will not only group your plants together but will also set boundaries for them.
Add Turf
If you have ample space for your garden, you can place turf of any shape and size you prefer. You can plant grass on that bare soil. This turf is a perfect place where you can just sit or lie down on the grass and enjoy the sunny day or starry night. This is also a perfect place to put tables and chairs with table umbrellas so you and your family and friends can lounge in your garden.
With these tips, you can create the amazing garden you have always been dreaming of. Gardens may be hard to create and very laborious to maintain, but their effect is just incredible. The beauty they add to the world is just mesmerizing and they provide benefits for years to come
George is a specialist when it comes to garage doors. Working in the industry for over 20+ years he takes pride on helping his clients fulfill their needs when it comes to garage construction. In his spare time, he loves spending time with his family.
Like this post?
Let us know what you think by leaving a comment below. Share it with your friends, too!